DESIGN YOUR PERFECT
WEDDING HORNS
If you have a custom design please fill out the form below

How It Works [4 Steps]

#1: Select Your Horns
#2: Add Design / Image
#3: Add Text / Fonts
#4: Pick Color Inlay


* Since all horns are 100% and natural. Each horn will be a little bit different in shape, size and color, yet all will be beautiful.

*ENGRAVING means you must select either an image, text or both. If you want a horn without engraving please go back to the homepage.


#1 Select Your Horn/s

#2: Add Your Image / Design For Engraving
(Optional)

Choose from over 60 Pre-Made Designs Or Upload your Own (Fill in the form at the bottom of the page)

*The Oak Wood Based Mugs Tend To Be Lighter In Color. The curved Viking horns no longer have brass rim but are more beautiful and more durable.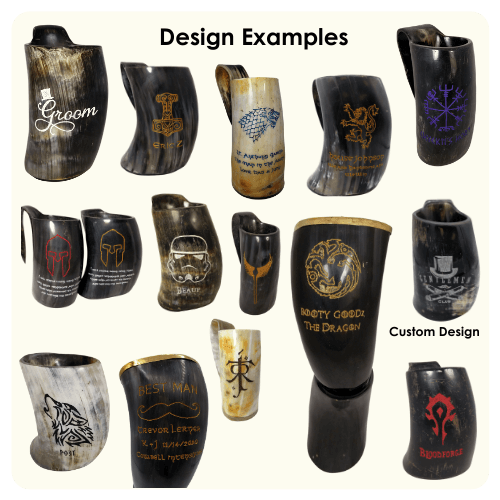 #3: Add Your Text For Engraving
(Optional)

Choose from over 10 pre-selected font styles or have us choose the best on for your horn. After you add your text you will be able to select your font.

*Want your own font? If it's within reason we can do it for you, simply choose (I want my own font) and then tell us the type of font you want. If the font is very intricate, we may up the charge a bit.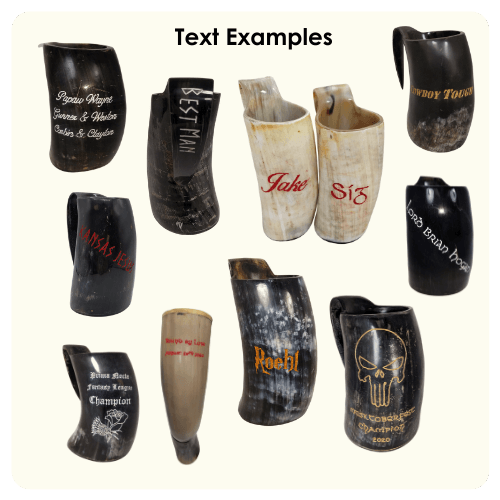 #4: Add Color Inlay

Choose from 6 different colors that you want your engravings to be. If you select a color both your text and image will be that color (unless specified in the notes)

*Because the horns are all different shades and colors selecting a color might not show as good on some horns. Here is what we recommend

1: Black / White inlay = Depending on the color of your horn we will choose a black inlay if the horn is light or a white inlay if the horn is dark. These options look great.

2: Red, Purple, & blue look really good on the Oak Bottom Mugs because they are generally lighter in color.

3: Premium Gold looks fantastic on all horns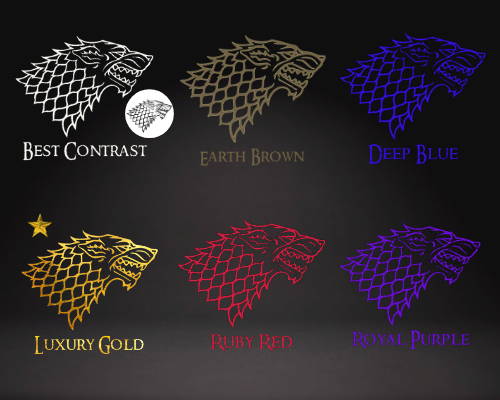 That's It

Fun & Easy! Are you ready to give it a go?


Horn Price

Depending on the horn size and type you select

Lowest: $46
Highest: $72.50


Design (Image) Price

Our designs take a lot of time and effort to make. Hand-engraved like a tattoo artist, our engravers are masters.

Lowest: $18
Highest: $38

Want Custom? Simply Fill Out The Form In The Below "Help" Tab To Get Custom Design Pricing


Text Lines Price

You Can Get Up To 4 Lines of Text on Any Horn. Each text line can have up to 20 characters.

1 Line of text = $15
2 Lines of text = +$5 ($20 total)
3 Lines of text = +$5 ($25 total)
4 Lines of text = +$5 ($30 total)


Inlay Color Price

All Inlay Colors are just $5
Premium Gold is amazing and is $15


Font Price

All fonts are FREE. Type in the notes section if you want a special font.
*A super custom intricate font may have additional small charge.




We are thrilled you've come to us for your wedding gifts because, quite honestly, no wedding gifts are as unique as these personalised hand-engraved drinking horns for the wedding party.

The tradition of using Viking drinking horns dates back to, well, the days of the Vikings when many weddings were more so about financial reasons above love.

Although there will most likely not be any sacrifices or sword ceremonies at your wedding one thing in common is the celebration of "bridal-ale" to top off the festivities.
The ancient tradition of having drinking horns at your wedding is something we love to help you accomplish. And the best part is our the look on your friends and family members when you present them their own wedding drinking horn.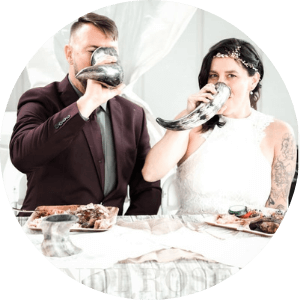 Drinking horns have been a symbol of victory and celebration for thousands of years. No matter where in the world your ancestors came from, if they ate meat, they probably drank from horns.
AleHorns are one of the traditions you'll be glad you brought back into your family.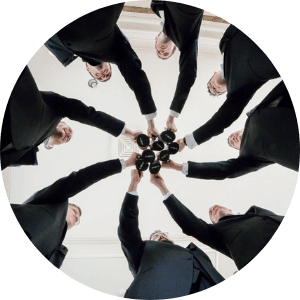 While we're serious about tradition, we're also serious about FUN. Drinking horns add a touch of whimsy to any event, and remind us that we're here to PARTY.

Having visions a fantasy wedding with kings, queens, and maybe a little magic? AleHorns would fit right in.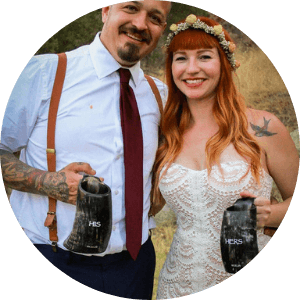 We can't think of many other wedding accessories that can be described as both rustic and elegant, and both traditional and modern - and yet, here we are!

The curve of a drinking horn is both delicate and strong (...and looks great in wedding photos!)
RETURNS & EXCHANGES
Return any of our products in 30 days.
ONLINE SUPPORT
Receive 24/7 support. We're here to help.